HOW DOES VIDEO CONFERENCE IN THE CLOUD WORK?
Whether you are a business owner or an individual looking to save time, money and company resources to hold meetings, conferences, or training sessions, look no further, the answer is at hand! With web conferencing, you will accomplish all this and more…
WHAT IS VIDEOCONFERENCE?
Traditional conferences, even if very efficient, can be quite a drag and costly to organize. Flight bookings, catering and hotel stays need to be arranged, a conference room needs to be hired, email invitations have to be sent and RSVP checked, dates need to be confirmed… You are literally organizing a small event. These processes are now a thing of the past with video conference.
A video conference is like a conference call, just with video. It allows three or more users to hear and see each other, so participants can have a meeting from their desktop.
However, it does require specialized equipment at each end for a successful connection.
Over the years, the transport industry has aimed to bring us closer, faster. Indeed, boarding a plane is as common as getting in your car for your commute to work.
With the internet, the geographic barrier is now broken. You can be in America speaking to clients in countries such as Japan, France and Australia without leaving your office, or your home for that matter. By bringing videoconferencing in the cloud, a whole new world of opportunities has opened up to us.
HOW DOES VIDEOCONFERENCE IN THE CLOUD WORK?
Web conferencing allows you to hold live meetings, presentations and trainings via the internet on IP connections. You can connect to the meeting by using your phone or computer's speaker and microphone through a VoIP connection. An application from your VoIP provider allows you real time communication from one sender to many receivers.
THE ADVANTAGES OF WEB CONFERENCING
The purpose of a meeting is to connect people in order to achieve more in a short amount of time. However, the video conference in the cloud has many more advantages than the traditional conference.
The flexibility
Thanks to web conferencing, organizing a meeting has become a lot simpler. It is no longer necessary to search for available flights, hotel stays, or cross check all the calendars. The different participants just need to click to attend a cloud conference from their device, wherever they are.
The productivity
According to Wainhouse Research, 94% of businesses using web conferencing say it increases productivity. Indeed, if members of staff no longer have to travel or take time away from their station to attend a conference, this is time that is saved and put to better use, especially if your company has offices in various locations.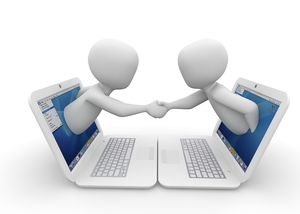 The building of rapport
First, communication is more than what we say. According to specialists, facial expression and body language count for 55% of a person's communication, the tone of voice counts for 37%, and the actual word count for 8%. Looking at these numbers we understand that if more than half of a message is not communicated through the voice, a crucial part of the message will be missed in a conference call. In this case, web conferencing is the best way to avoid miscommunication.  
Also, with the increase of remote work, web conferencing is the best way to keep employees connected. In fact, the IMCCA found that nearly 9 in 10 remote employees say that video conference helps them feel more connected to their colleagues.
Finally, virtual conferencing is a great tool when building a rapport with clients. The relationship between a consultant and a prospect is based on trust. And being able to communicate with a customer face to face is far more efficient to build a better rapport than an email or a phone call.
The financial upside
Despite its many benefits, the video conference tool can be a very expensive one due to its costly video infrastructure components. That is why many businesses have favored its internet counterpart. Indeed, web conference users save up to 75% over a hardware MCU. 
No geographic boundaries
Video conference in the cloud opens up possibilities for communication with employees and customers worldwide as anyone with an internet connection and a computer can attend a meeting.
No time limits
Unlike other applications that offer a similar service for free, video conference hosted in the clouds allow you to communicate face to face with others with no time limitations. So, you can hold your presentation as long as you need no with fear of being cut.
The many features
Finally, video conference hosted in the cloud comes with many features that will simplify your life. Indeed, thanks to the features included in their virtual conferencing package, a business phone system provider, like VoxSun Telecom, will help you to:
Join or create a meeting from any cell phone or tablet

Receive an alert when a meeting is about to start

View presentations, graphics, and reports directly on your screen

Show all the participants attending the video conference

Display all your future meetings on your calendar

Show all shared content along with notes

You can transfer the control of the meeting to anyone attending

Attend the conference with a single click.

Chat via keyboard with conference participants

Encrypt your conversations for greater security
HOW TO ENHANCE YOUR WEB CONFERENCING EXPERIENCE
Location
Ensure the room you choose to hold the conference has a good acoustic and is free from outside noise and distractions.
It wouldn't be pleasant to be disturbed by the sound of ongoing traffic or road work.
Lighting
Ensure the room is well lit, so the web participants can see everything clearly.
Sound equipment
It is not a necessity, but a headset can improve the clarity of your speech. Investing in one wouldn't be a bad idea.
In conclusion, the video conference tool is affordable, flexible and its many features is sure to increase employee productivity and customer satisfaction.
Alice Johnson