How to cut down on your business phone bills?
Communication is essential for any business to acquire and keep customers. So, when a company's phone bills are quite steep, it is accepted as a necessary investment. However, the internet has opened doors with business phone systems hosted in the cloud, that can now decrease your business phone bills considerably.
WHAT IS VOIP?
VoIP, or Voice Over Internet Protocol, allows you to make phone calls via the internet.
Since 2004, businesses have switched to VoIP and the trend is not slowing down. According to a Gartner press release, 8 % of business people were using the cloud office system at the start of 2013, and they estimate this number will grow to 695 million users by 2022, to represent 60 %. It seems businesses are realizing the benefits of migrating to the cloud. And these benefits are clear and without question. Indeed, companies using VOIP experienced up to 50% savings on their phone bills.
At first, VoIP had its detractors, but the numbers don't lie.
Furthermore, long gone are the days of unpredictable and unreliable IP calls, with the robotic voice and interrupted conversations. Welcome to the ActivVoice technology era. What is ActivVoice technology you ask? Well, it means that the internet channel has a runway solely dedicated to the voice to prioritize voice packets on your internet connection. Consequently, the quality of the voice will not be altered, and you can enjoy downloading and uploading data while on the phone with no fear of being cut.
INSTALLATION AND EQUIPMENT
When using the analog system, a company must invest in in-house servers and expensive equipment fees. Thanks to VoIP, this is no longer necessary. Of course, when a company has already invested in traditional phone lines, they can be reluctant to migrate to the cloud, fearing the setup cost would not be worth it.
In fact, the financial investment required to implement a hosed VoIP solution is minimal, and well worth the long-term benefits beyond the setup process.
First, you can keep your existing phone numbers for free without experiencing any downtime.
Then, your only initial investment is the purchase of new IP phones, which comes in a range of prices according to the model. There is also the option of using your existing phones by purchasing small adaptors. These adaptors will convert analog voice signals into digital IP packets to transport over an IP network, and vice-versa.
Once you have your adaptors and an internet connection, you are ready to go. From then on, everything is done online. Indeed, your VoIP provider will set up and administer all the desired features at no extra cost.
MAINTENANCE AND UPGRADE
When your business has migrated to a phone system hosted in the cloud, any maintenance and system upgrade is taken care of by your VoIP provider. This means that you do not need to pay a technician to perform these tasks, like you would have if you were still using the traditional analog system.
CALL COSTS
When a business switches to VoIP, the phone calls are not priced per minute like its analog counterpart. As a matter of fact, most VoIP provider offer packages with unlimited calls at very low prices. And that includes international calls! So now, you can call long distance and secure that sale, without dreading the bill.
Furthermore, as your business makes savings, you could possibly lower the price of your product or service, making it more attractive to potential customers.
FEATURES
On top of their many advantages, what sets hosted VoIP systems apart is the abundances of useful features at no extra cost.
Such a feature as Cloud faxing for example, allows you to securely transfer data without having to invest in fax machines, ink or paper.
Your business can also benefit from the more and more popular video conference feature, that will allow you to forever revolutionize your business conference without investing in hardware MCU.
The following features, usually expensive with traditional phone lines, are also included in your package when you switch to a business phone system hosted in the cloud:
Voice Mail

Call Transfer.

Conversation Recording

Call Forwarding (FollowMe)

Interactive Voice Response (IVR)

Call screening

Rules for incoming calls

Moderator

Advanced report

Attendance
SAVINGS ON OFFICE SPACE
There are 2 main reasons why switching to VoIP would allow a business to save money by renting a smaller office space.
First, less equipment is needed when you switch to VoIP, so less office space is needed. Your company will be able to hire a smaller office, which will consequently allow you to save on rent.
Secondly, a business phone system in the cloud allows staff to work remotely from home, while still being connected with their colleagues. And more staff working away from the office means less office space needed. Again, savings are made on rent by using a smaller office.
Furthermore, a study published in the Harvard Business Review revealed that people who worked from home were happier, felt more job satisfaction, used less sick days and were more productive. In fact, the employees who were working remotely from home were 13% more productive than those who stayed at the office. In that respect, incorporating a cloud phone system in the office and setting up smart phones for the employees will not only allow your business to save on rent but to also improve productivity.
Considering all these facts, VoIP is clearly the most reasonable choice for company. So, if you haven't yet migrated to the cloud, what are you waiting for? Start making savings today.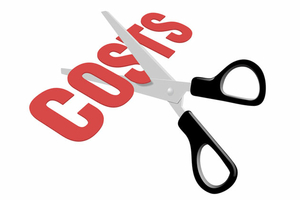 Alice Johnson